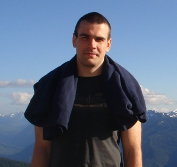 Machine Learning Group
Department of Computer Science
University of Toronto


About Me
I graduated with a Ph.D. in Machine Learning, previously I was a member of the Machine Learning Group working under the supervision of Richard Zemel.
Research Interests
My research interests broadly span the field of machine learning with emphasis on information retrieval and collaborative filtering. In particular, I'm interested in machine learning models for search (learning-to-rank, personalization etc.), preference aggregation and recommender systems.

I participated in several data mining competitions on Kaggle:

-3'rd place in Yandex Personalized Web Search Challenge. Large scale web search personalization challenge based on the Yandex search log dataset containing over 160M records from 5.7M users and 21M queries. 194 teams participated in this challenge, generating over 3.5 thousand submissions. You can read about my approach here.

-2'nd place in Million Song Dataset Challenge. Large scale collaborative ranking challenge based on the Million Song Dataset with listening histories for 1.1M users and 380K songs. 150 teams participated in this challenge, generating over 900 submissions.


Publications
Patents
Multi-Tiered Information Retrieval Training
Christopher J. C. Burges, Krysta M. Svore and Maksims N. Volkovs
US Patent App. 12/974,704.