Abdelrahman Mohamed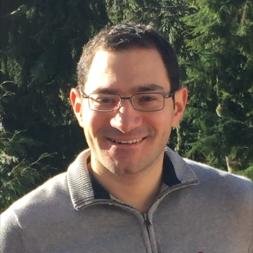 I'm a research scientist at Facebook AI Research (FAIR). My research interests lie in Deep Learning, Speech Recognition, and Language Understanding. Before joining FAIR I worked at Amazon, Microsoft Research, KULeuven, and RDI Technologies. I received my PhD from the CS department at the University of Toronto working with Gerald Penn and Geoffrey Hinton.
News
Sep 2018: I joined FAIR in Seattle.
Jan 2017: I'll participate in the CBMM Workshop on Speech Representation, Perception, and Recognition organized by the Center For Brains, Minds, and Machines (CBMM) at MIT.
Dec 2016: Our paper "Convolutional Neural Networks for Speech Recognition" received the IEEE Signal Processing Society Best Paper Award for 2016.
Publications
[check my Google Scholar page for an updated list]
Alex Graves, Navdeep Jaitly, Abdel-rahman Mohamed, "Hybrid Speech Recognition with Deep Bidirectional LSTM", in ASRU 2013.
Tara N. Sainath, Brian Kingsbury, Abdel-rahman Mohamed, George Dahl, George Saon, Hagen Soltau, Tomas Beran, Aleksandr Aravkin, Bhuvana Ramabhadran, "Improvements to deep convolutional neural networks for LVCSR", in ASRU 2013.
Tara N. Sainath, Brian Kingsbury, Abdel-rahman Mohamed, Bhuvana Ramabhadran, "Learning filter banks within a deep neural network framework", in ASRU 2013.
Tara N. Sainath, Abdel-rahman Mohamed, Brian Kingsbury, Bhuvana Ramabhadran, "Deep convolutional neural networks for LVCSR", in ICASSP 2013. [pdf]
Alex Graves, Abdel-rahman Mohamed, Geoffrey Hinton, "Speech recognition with deep recurrent neural networks", in ICASSP 2013. [pdf]
Geoffrey Hinton, Li Deng, Dong Yu, George E. Dahl, Abdel-rahman Mohamed, Navdeep Jaitly, Andrew Senior, Vincent Vanhoucke, Patrick Nguyen, Tara N. Sainath, Brian Kingsbury, "Deep Neural Networks for Acoustic Modeling in Speech Recognition: The shared views of four research groups", IEEE Signal Processing Magazine, 29, November 2012. [pdf]
Abdel-rahman Mohamed, Geoffrey Hinton, Gerald Penn, "Understanding how Deep Belief Networks perform acoustic modelling", in ICASSP 2012. [pdf]
Ossama Abdel-Hamid, Abdel-rahman Mohamed, Hui Jiang, Gerald Penn, "Applying convolutional neural networks concepts to hybrid NN-HMM model for speech recognition", in ICASSP 2012. [pdf]
Yichuan Tang, Abdel-rahman Mohamed, "Multiresolution Deep Belief Network", in AISTATS 2012. [pdf]
Tara N. Sainath, Brian Kingsbury, Bhuvana Ramabhadran, Petr Fousek, Petr Novak, Abdel-rahman Mohamed, "Making Deep Belief Networks Effective for Large Vocabulary Continuous Speech Recognition," in ASRU, December 2011. [pdf]
Abdel-rahman Mohamed, Tara N. Sainath, George Dahl, Bhuvana Ramabhadran, Geoffrey E. Hinton, Michael A. Picheny, "Deep Belief Networks using Discriminative Features for Phone Recognition", in ICASSP 2011. [pdf]
Abdel-rahman Mohamed, George Dahl, Geoffrey Hinton, "Acoustic Modeling using Deep Belief Networks". Accepted for publication in IEEE Trans. on Audio, Speech and Language Processing. [pdf]
George Dahl, Marc'Aurelio Ranzato, Abdel-rahman Mohamed, Geoffrey Hinton, "Phone Recognition with the Mean-Covariance Restricted Boltzmann Machine", In Advances in Neural Information Processing Systems 23, 2010, 469-477. [pdf]
Abdel-rahman Mohamed, Dong Yu, Li Deng,"Investigation of Full-Sequence Training of Deep Belief Networks for Speech Recognition", in Interspeech 2010, 2846-2849. [pdf]
Li Deng, Mike Seltzer, Dong Yu, Alex Acero, Abdel-rahman Mohamed, Geoffrey Hinton,"Binary Coding of Speech Spectrograms Using a Deep Auto-encoder", in Interspeech 2010, 1692-1695. [pdf]
Abdel-rahman Mohamed, Geoffrey Hinton,"Phone recognition using Restricted Boltzmann Machines", in ICASSP 2010, 4354-4357. [pdf]
Abdel-rahman Mohamed, George Dahl, Geoffrey Hinton,"Deep Belief Networks for phone recognition", in NIPS Workshop on Deep Learning for Speech Recognition and Related Applications, Whistler, BC, Canada, December 2009.[pdf]
Jacques Duchateau, Yuk On Kong, Leen Cleuren, Lukas Latacz, Jan Roelens, Abdurrahman Samir, Kris Demuynck, Pol Ghesquiere, Werner Verhelst and Hugo Van hamme. "Developing a Reading Tutor: Design and Evaluation of Dedicated Speech Recognition and Synthesis Modules". Speech Communication, Volume 51, Issue 10, October 2009, 985-994.
Abdurrahman Samir, Jacques Duchateau, Hugo Van hamme (2008): "Discriminative Model Combination and Language Model Selection in a Reading Tutor for Children", in INTERSPEECH-2008, Brisbane, Australia, pp. 2795-2798.[pdf]
Abdurrahman Samir, Sherif Mahdy Abdou, Ahmed Husien Khalil, Mohsen Rashwan (2007): "Enhancing usability of CAPL system for qur'an recitation learning", in INTERSPEECH-2007, Antwerp, Belgium, pp. 214-217.[pdf]
Sherif Mahdy Abdou, Salah Eldeen Hamid, Mohsen Rashwan, Abdurrahman Samir, Ossama Abdel-Hamid, Mostafa Shahin, Waleed Nazih (2006): "Computer aided pronunciation learning system using speech recognition techniques", in INTERSPEECH-2006, Pittsburgh, Pennsylvania, pp. 1888-1891.[pdf]
CIFAR NCAP 2010 Summer School