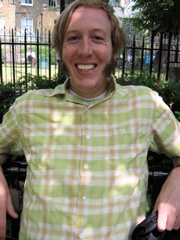 Current Status
I'm a M.Sc. candidate affiliated with the Machine Learning Group in the Department of Computer Science , at the University of Toronto.
My supervisor is Sam Roweis.
---
Contact Info
Email: scottl /at/ cs (dot) toronto (dot) edu
Snail Mail:
Scott Leishman
University of Toronto
Department of Computer Science
10 King's College Rd.,
Toronto, ON
M5S 3G4, CANADA

---
Curriculum Vitae
Available by request for now
---
The Story Thus Far
Born to two very loving parents in Glasgow, Scotland during the late summer of 1979.
Immigrated to Canada with baby sister in tow 3 years later.
Raised as a soccer playing rapscallion in the friendly confines of south-western Ontario.
Completed undergraduate degree at 2 of the 3 sprawling University of Toronto campuses.
Received an Honours Bachelor of Science, with a specialist in Software Engineering and a minor in the Philosophy of Science.
Completed a 16 month PEY internship at the then named Sema Group in the outskirts of Toronto.
Travelled half-way around the world to Japan and South Korea with good friends / former room-mates / co-conspirators.
Spent an awesome 4 month research period coming up with an unrefined version of this.
Moved to la belle province (Montreal, QC).
Re-united with old working buddies and spent almost 2 years at the newly named airwide solutions.
Met and fell in love with an amazing gal named Jas.
Backpacked through a good chunk of Western Europe.
Moved back to the smoggy climes of Toronto.