The cookie breaks are now organized by Yuval
CSGSBSCB
The Computer Science Graduate Student Benevolent Society (CSGSBS) Cookie Breaks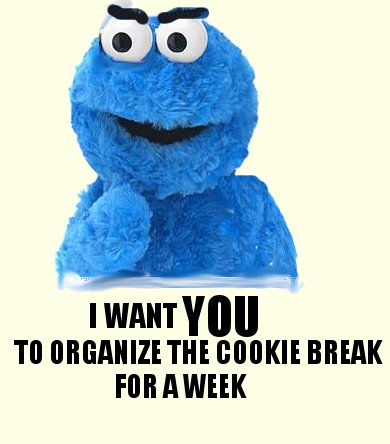 The cookie break is held every Thursday, starting around 5:30 or 5:00. Please join us for delicious cookies and stimulating conversation!
Please also consider volunteering to organize the cookie break for a week. It's fun, gives you the opportunity to attempt to solve the (weakly) NP-complete problem of spending exactly $30 of someone else's money (yeah, yeah, it's constant time really), and increases the level of your reported well-being. If you want to volunteer to buy the cookies (or bake them), just email me at guerzhoy at cs.
Instructions for volunteers
Send out an announcement to grad-announcements at cs on the day of the cookie break with the time and the location of the cookie break, and bring the cookies there at the time you specified
Bring me your receipts to get reimbursed
The budget is $30
Basically, buy/bake the kind of stuff you'd want to eat, or stuff that you wouldn't eat, but are sure other people inexplicably like
Date
Volunteer
&nbsp &nbsp (click to show all)
&nbsp &nbsp (click to hide some)
?
?
April 1
Giovanna
April 8
Marek
April 15
Michael
April 22
Michael
April 29
Giovanna
May 6
Jocelyn
May 13
Jackie
May 20
Michael
May 27
Michael
June 3
m
June 10
m
June 17
Aran
June 24
Jono
****June 30*****
m
July 8
Aran
July 15
Aran
July 22
Giovanna
July 29
m
August 5
m
August 12
m
August 19
Kaveh
August 26
Jackie
September 2
m
September 10
Alicia
September 17
Mike M.
September 24
Natan
October 1
Yulia
October 8
m
October 15
m
October 22
Jackie
October 29
m
November 5
m
November 12
Jono
November 19
Yuval
November 26

(Robert)
December 3
Jackie
December 8
Giovanna
December 17
Torsten
January 7
m
January 14
Lei
January 21
Daniel
January 28
m
Feb 4
m
Feb 11
m
Feb 18
Giovanna
Feb 25
m
Mar 4
m
Mar 11
m
Mar 18
m
Mar 25
Jackie*, Lei*, Yu*
Apr 1
m
Apr 8
Jono
Apr 14
m
*******Apr 21******
Giovanna
Apr 28
Golnaz*, Yulia*
May 6
m
May 20
No cookie break -- go eat cookies at TIC2010 instead
May 27
Abayomi
Jun 15
m
Jul 8
Abayomi
*The authors contributed equally to this work
Thanks to Cookie Master Emeritus Vivek for organizing the cookie breaks for the past year!
This photo of a plush Cookie Monster was used. The plush Cookie Monster is probably available at a reasonble price from fine retailers and is apparently suitable for grad students 6 months and up into their program.