Convolutional Neural Networks¶
So far, we have used feed-forward neural networks with fully connected layers to build neural networks. While fully connected layers are useful, they also have undesirable properties.
Specifically, fully connected layers require a lot of connections, and thus many more weights than our problem might need. Suppose we are trying to determine whether a greyscale image of size $200 \times 200$ contains a cat. Our input layer would have $200 \times 200 = 40000$ units: one for each pixel. A fully connected layer between the input and the first hidden layer with, say, 500 hidden units will require at least $40000 \times 500 =$ 20 million weights!
The large number of weights mean several things. First, computing predictions will require long processing time. Second, our network very high capacity, and will be prone to overfitting. We will need a large number of training examples, or be very aggressive in preventing overfitting (we'll discuss some techniques in a later lecture).
There are other undesirable properties as well. What happens if our input image is shifted by one pixel to the left? Since the content of the image is virtually unchanged, we would like our prediction to change very little as well. However, each pixel is now being multiplied by an entirely different neural network weight. We could get a completely different prediction. In short, a fully-connected layer does not explicitly take the 2D geometry of the image into consideration.
In this chapter, we will introduce the convolutional neural network to solve many of these aforementioned issues.
Locally Connected Layers¶
In a 2-dimensional images, there is a notion of proximity. If you want to know what object is at at a particular pixel, you can usually find out by looking at other pixels nearby. (At the very list, nearby pixels will be more informative than pixels further away.) In fact, many features that the human eye can easily detect are local features. For example, we can detect edges, textures, and even shapes using pixel intensities in a small region of an image.
If we want a neural network to detect these kinds of local features, we can use a locally connected layer, like this: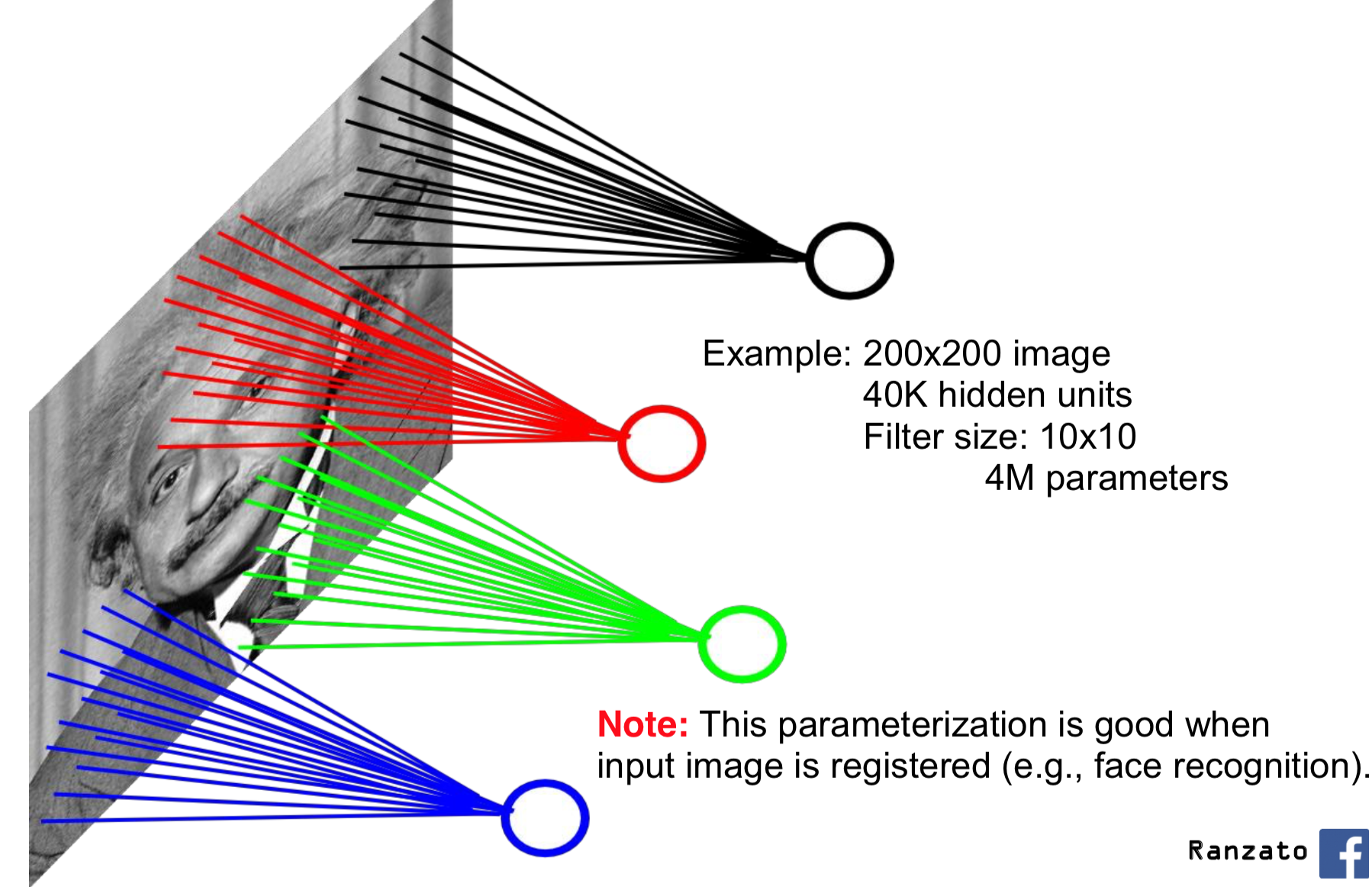 Each unit in the (first) hidden layer detects patterns in a small portion of the input image, rather than the entire image. This way, we have fewer connections (and therefore weights) between the input and the first hidden layer. Note that now, the hidden layers will also have a geometry to them, with the top-left corner of the hidden layers being computed from the top-left region of the original input image.
There is actually evidence that the (biological) neural connectivity in an animal's visual cortex works similarly. That is, neurons in the visual cortex detect features that occur in a small region of our receptive field. Neurons close to the retina detect simple patterns like edges. Neurons that receive information from these simple cells detect more complicated patterns, like textures and blobs. Neurons in even higher layers detect even more complicated patterns, like entire hands or faces.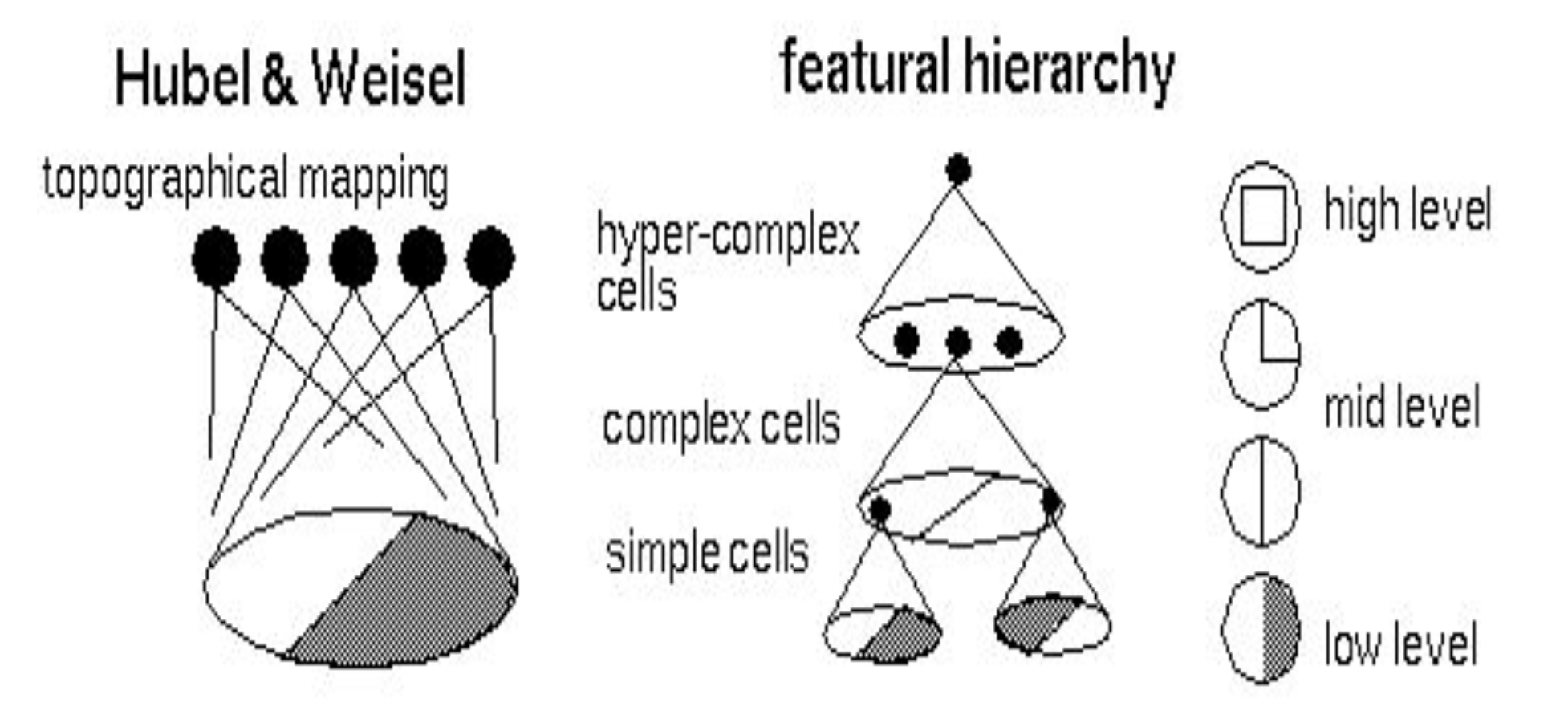 Weight Sharing¶
Besides restricting ourselves to only local connections, there is one other optimization we can make: if we wanted to detect a feature (say, a horizontal edge), we can use the same detector on the bottom-left corner of an image and on the top right of the image. That is, if we know how to detect a local feature in one region of the image, then we know how to detect that feature in all other regions of the image. In neural networks, "knowing how to detect a local feature" means having the appropriate weights and biases connecting the input neurons to some hidden neuron.
We can therefore reuse the same weights everywhere else in the image. This is the idea behind weight sharing: we will share the same parameters across different locations in an image.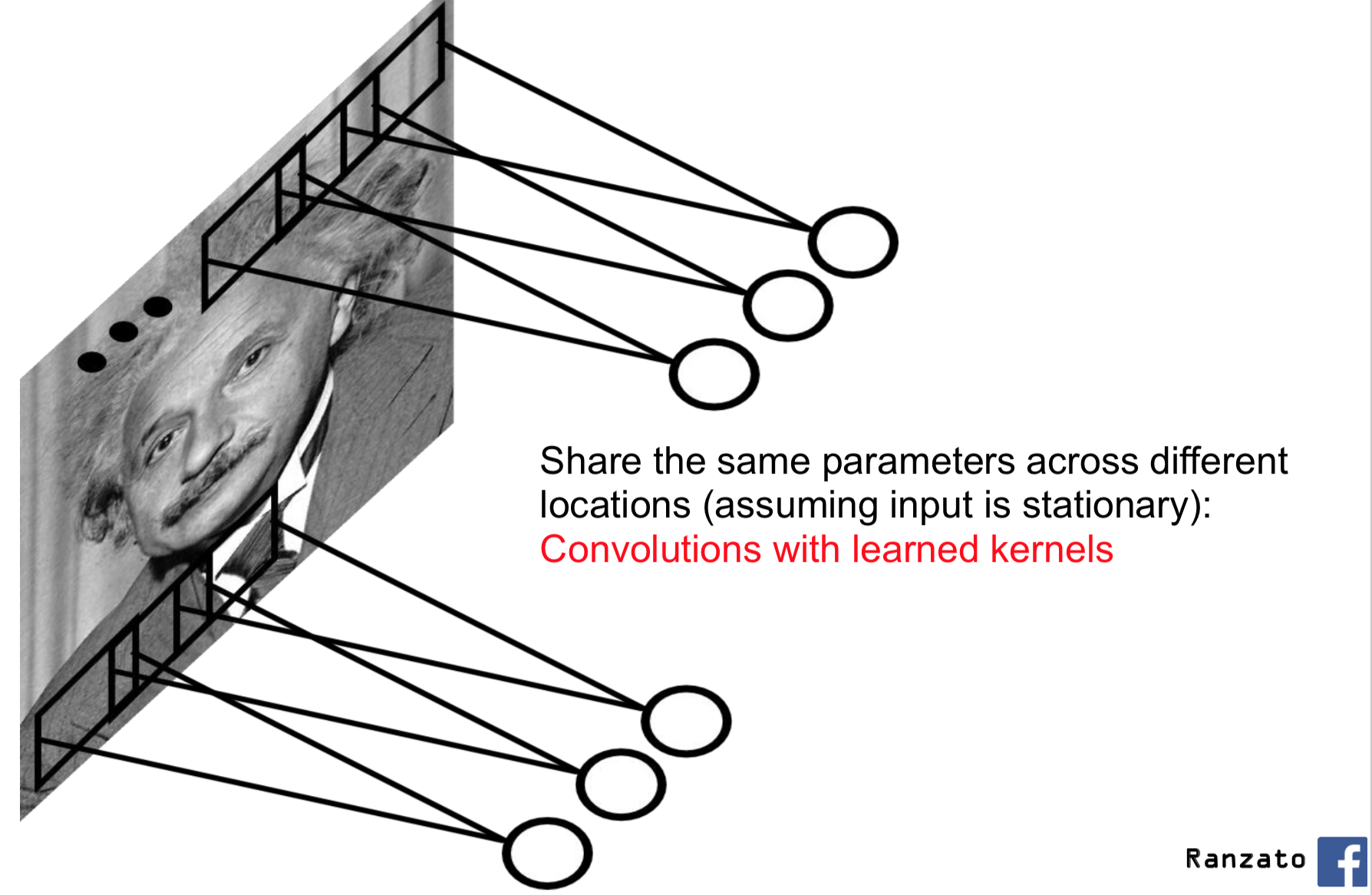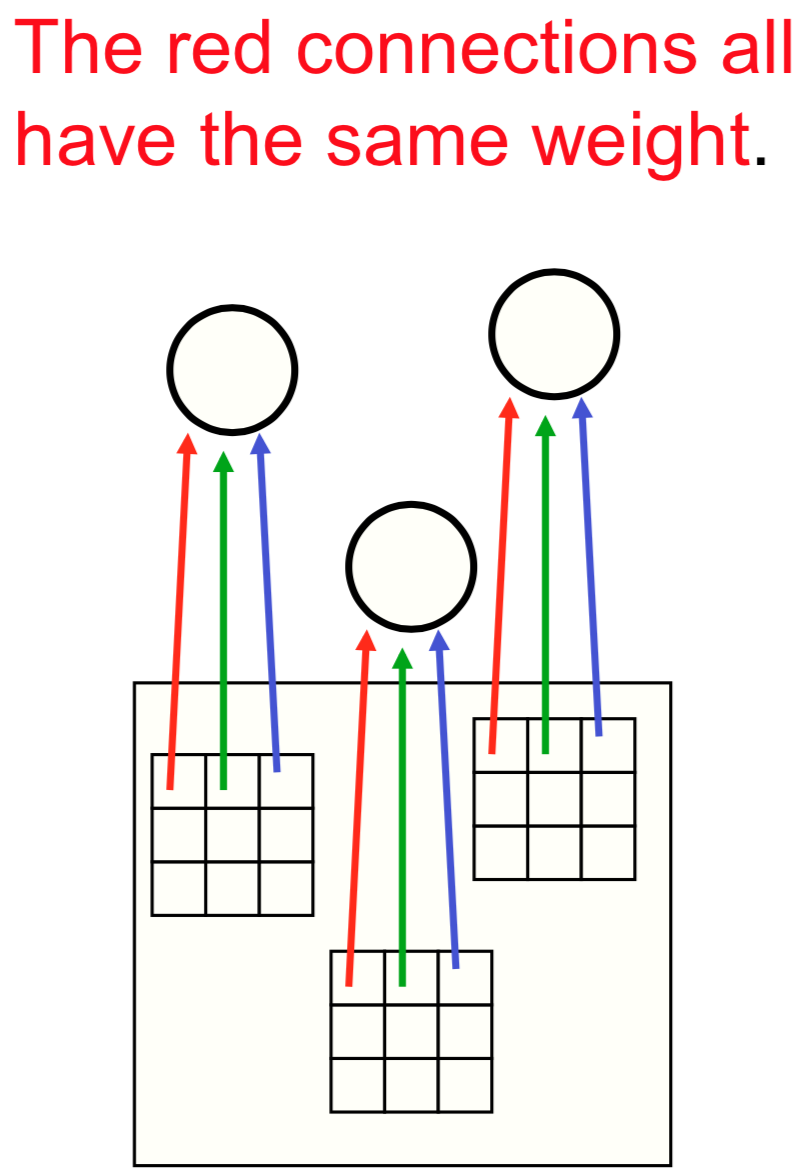 Convolutional Arithmetic (forward pass computation)¶
Let's look at the forward pass computation of a convolutional neural network layer. That is, let's pretend to be PyTorch and compute the output of a convolutional layer, given some input.
The light blue grid (middle) is the input that we are given. You can imagine that this blue grid represents a 5 pixel by 5 pixel greyscale image.
The grey grid (left) contains the parameters of this neural network layer. This grey grid is also known as a convolutional kernel, convolutional filter, or just kernel or filter. In this case, the kernel size or filter size is $3 \times 3$.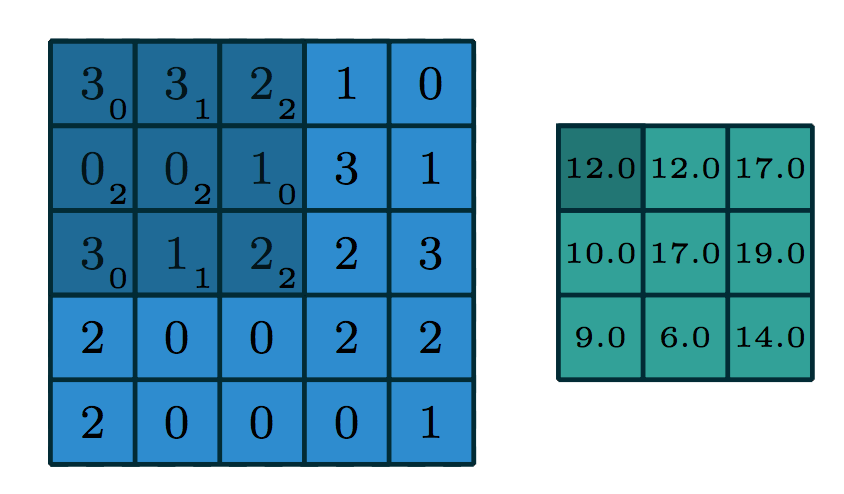 To compute the output, we superimpose the kernel on a region of the image. Let's start at the top left, in the dark blue region. The small numbers in the bottom right corner of each grid element corresponds to the number in the kernel. To compute the output at the corresponding location (top left), we "dot" the pixel intensities in the square region with the kernel. That is, we perform the computation: