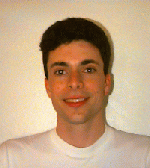 Harold Connamacher
hsc at cs.toronto.edu
---
Education History
I am a former graduate student of the Department of Computer Science at the University of Toronto.
I earned my doctoral degree in computer science in 2008, studying under Michael Molloy to whom I owe a great debt of gratitude.
My doctoral thesis is Threshold Phenomena in Random Constraint Satisfaction Problems. That work would not have happened without the support and help of my thesis committee and the external reviewer: Michael Molloy, Derek Corneil, Stephen Cook, Toniann Pitassi, Fahiem Bacchus, and Nicholas Wormald. Thank you.
---
Current Position
I am an Assistant Professor in the Department of Electrical Engineering and Computer Science at Case Western Reserve University.
Please visit my current web page.
---