CSC320 Project 4: Triangulation Matting (Worth: 7%)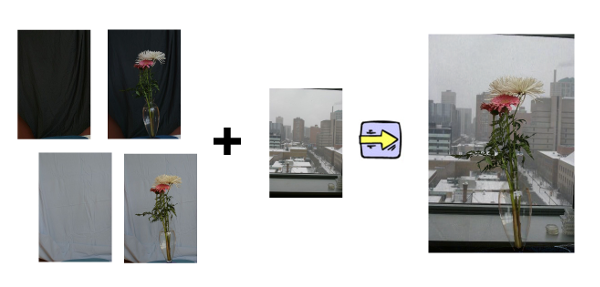 This project can be done by teams of up to two students (people from the day section can work with people in the evening section)

.
The Project
LaTeX help
Neatly and clearly hanwritten derivations for Part 1, inserted as images into the PDF, are okay, but you are encouraged to use LaTeX. Here is a file with the matting equation in matrix form typest in LaTeX.
Caution
If you don't divide the images by 255.0 to be in the 0...1 range when you read them in, you are likely going to have a bad time.
Tips for Taking Photos
Make sure the camera doesn't move between photos
Make sure the foreground doesn't move between photos
Make sure the lighting conditions don't change. Ideally, use natural light, with no flash and no fluorescent lighting
As much as possible, make sure that the focus/zoom/etc. on your camera doesn't change between photos. Tips for doing that with a cameraphone:

Don't use a cameraphone. Use a camera where you can switch to "manual" mode (rather than "auto" mode) instead.
Failing that, you want to fool the cameraphone into thinking that the scene isn't changing so that it doesn't change the settings on you. To accomplish that, put the actual objects you want to take a picture of in the corner of the frame, and put a big bright (non-moving) object in front of the camera. That way, the camera will likely not change its settings between takes, since most of the image will be taken up by the non-changing prominent object. In the example below, we use the big cardboard box cover as the "decoy" to get reasonable results. Note that the camera moved when those were taken, so the matting results aren't that great; these are just for illustration purposes.

Images