This is a project page for the segDPM detector described in our CVPR'13
paper
. We provide the code and data for non-commercial use. If you would like to use the code commercially, please contact us. We provide the data and pre-trained models for
PASCAL VOC 2010
.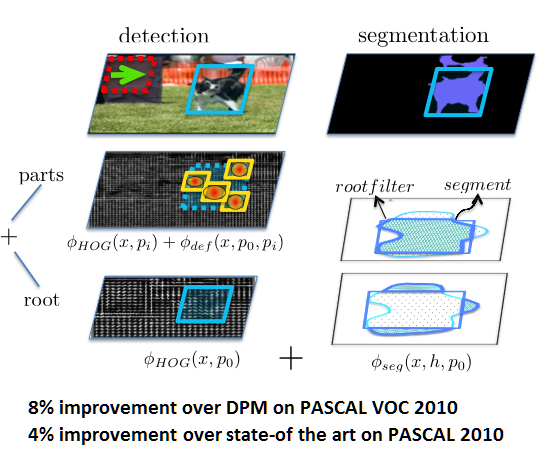 Exploting Segmentation in Detection
We are interested in how semantic segmentation can help object detection. We propose a novel deformable part-based model which exploits segmentation algorithms that compute candidate object regions. Our approach allows every detection hypothesis to select a segment, and scores each box in the image using both the traditional HOG filters as well as a set of novel segmentation features. Thus our model ``blends'' between the detector and segmentation models. Our approach significantly outperforms DPM and existing state-of-the-art approaches on the challenging PASCAL VOC 2010 dataset.
People
Code
Improved version with CNNs available here.


Pre-computed segmentation data
We use segmentations obtained by the CPMC + CPMC-o2p method. If you use this data, please cite the CPMC papers. We computed segmentations for two splits. For the train+val split we trained the CPMC classifiers on all available GT segmentations excluding the val subset of the main (detection) challenge. For the trainval+test we trained the CPMC classifiers on all available GT segmentations. In both cases we used segmentations provided by the PASCAL challenge as well as the additional subset labeled by UC Berkeley available here.



Pre-trained models
We provide trained models for the train+val and trainval+test splits as well as context-rescoring classifiers.



Pre-computed detections
We provide pre-computed detections for two splits, train+val and trainval+test. We deliberately put a low threshold on the detection scores so that the set of obtained detections is large (has higher recall) and allows you to apply some fancy post-processing method. We provide original detections as well as two sets of context-rescored detections: one rescored with a simple DPM-style rescoring approach and one using the scores of global image-level classifiers. Please check the paper for more information.
Note that our server can't handle files bigger than 2Gb so we had to split the data into smaller chunks.



Contact
For questions regarding the code and/or data please contact Sanja Fidler and Roozbeh Mottaghi.


Relevant Publications
If you use the code or data please cite the following paper: