iSlideshow Screensaver
by: Eron Steger
About
This slideshow screensaver transitions between images using the "Ken Burns Effect", slowly zooming and fading between images.
Features
Zoom and fades between images from multiple directories
Handles JPEGs, PNGs, TIFs, BMPs, and GIF files
Stretches images to fit the screen if resolution is close
Handle very high resolution images
Supports multiple monitors
Installation
To install, copy the .scr file to your windows system directory. For Windows 9x and Me, this will likely be C:\windows\system. For Windows 2000/xp, this will be likely be either c:\winnt\system32 or c:\Windows\system32
Once installed, go into the control panel display settings, and choose the 'screen saver' tab. From there, select the 'iSlideshow' screen saver, and press the 'configure' button.
From here, you can add directories to search for images. Directories can be added either by clicking on 'add directory' or by dragging and dropping them from Windows.
Once the images are properly setup, you should see images fading between one another in the screensaver preview. If checkerboards are seen, then the program can't find any images it can load.
Screenshots
Settings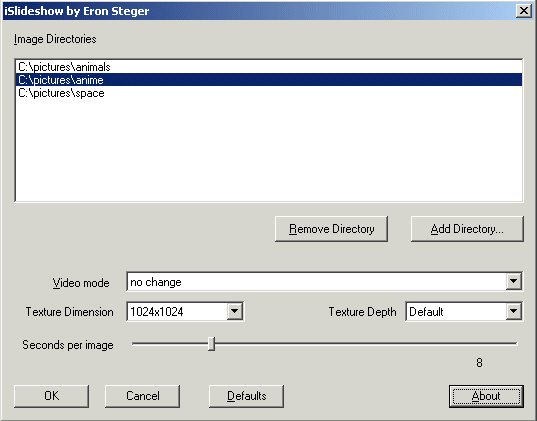 Changes
December 25, 2005
All slides displayed at correct image ratio
July 22, 2005
Search subdirectories for images
Fixed borders of images that aren't the same dimensions as the screen
Requires less video memory
May 5, 2005
Added ability to change the background color
Removed initial desktop transition
Added ability to enable/disable multiple monitor support
Mar 23, 2005
Multiple monitors now share image lists, so should see much less duplication of images
Added transition from desktop to slideshow
Changed resize code to be faster for large images
Screensaver starts faster